MCGRAT (AUS) STEPS ON THE PODIUM TWICE
Published: 20 August 2015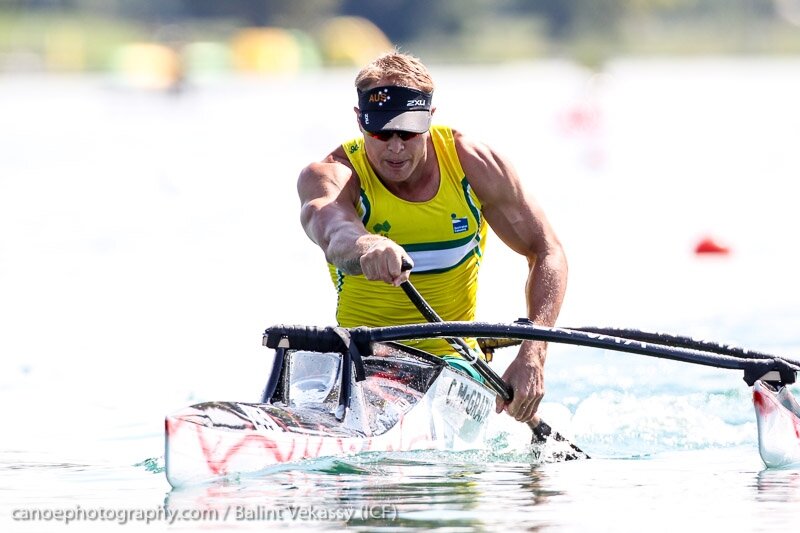 Australia won two gold medals on the second day of the ICF Canoe Sprint & Paracanoe World Championships in Milan whilst Brazil added two to its own tally, underlining its growing strength with the Rio 2016 Paralympics looming closer.
Australian Curtis McGrath has been an ever present threat in the men's KL2 since he opted to add kayak to his repertoire after it was decided as the boat for the 2016 Paralympics Games. 
In yesterday's men's KL2 200m heats he came in ahead of six times World Champion Austrian Markus Mendy Swoboda but the Austrian turned the tables today to win his seventh crown, just over half a second up on McGrath. 
"It was a hard race but I'm still breathing," joked Swoboda after emerging from the water following his celebratory leap. 
"When they announced kayak for the Olympics a lot changed and I became number two so there's a lot to do for next year as well to stay on top.
"I had a big advantage because I started at a very young age, 10 years old. Since then I stayed with it, but as the time goes by the gap gets closer because they gain years themselves so I have to step up my game again." 
McGrath later topped his silver by retaining his World Va-a title, coming in 2.76 seconds ahead of Spain's Javier Reja in the VL2 200m final. 
"I'm not sure if it was the best result but I can't really complain and I'm pretty happy," said the Australian, clearly a hard task master having been involved in the sport at high performance little over a year. 
"That was the intent, to come here and be able to defend the title and I'm glad the schedule enabled me to do so. I'm going back to what I know in the V1 so it wasn't as difficult as you might think bit it's a different style and stroke rhythm. 
"Still, I know there's always improvement to be made." 
A second Australian topped the podium this afternoon when Amanda Reynolds pipped Britain's Anne Dickins on the line in the women's KL3 200m A Final. 
Reynolds, who won bronze medallist in last year's World Championships, did not like today's tailwind and was conscious that Dickins was gaining ground, but she dug deep with characteristic gutsiness to take the win.  
"I actually prefer a head wind, so it was a bit messy but my goal was to get to the end first and we did it," said Reynolds. 
"I could feel the pressure and out of the corner of my eye I could see another boat coming up by I told myself I'm not giving up now so I'm going to put it.  It's awesome to win the gold and I couldn't expect any better." 
If anyone questioned how well Brazil's paracanoe team are preparing for next summer's Rio Paralympics then today's third gold medal of the regatta by the 2016 Games host nation should remove all doubts.  
In this afternoon's KL1 200m A Final, the gold surprisingly did not go to the widely-tipped former World Champion, Ferna Fernandes De Papua, but instead to his compatriot, Luis C.Cardoso Da Silva, who yesterday had won the gold in the VL1 final. 
"I'm extremely happy, so happy I don't even know how to describe how I feel now," said an emotional Cardoso Da Silva afterwards. 
"I thought I had the potential to win this race today and I fought very, very hard to get this result.
"Some days somebody has to win, some days somebody has to lose. Today I won." 
Fernandes De Papua, who finished third and over two seconds down on the leader, with Spain's Javier Reja separating them, said afterwards, "I need to work hard now to take my place with the Brazilians in next year's Games in Rio. 
"I need to fight much; I'm fighting so much six years ago when I started the paracanoe.  It's so much more competitive now so much more beautiful.  I'm sure that we will make something so beautiful in Brazil next year."
Men's KL2 200m A Final 
1. Markus Mendy Swoboda (AUT) 42.542
2. Curtis McGrath (AUS) 43.185
3. Fernando Rufino De Paulo (BRA) 43.415 
Women's KL3 200m A Final
1.Amanda Reynolds (AUS) 50.501
2.Anne Dickins (GBR) 50.521
3.Cindy Moreau (FRA) 50.951 
Men's KL1 200m A Final                                
1. Luis C.Cardoso Da Silva (BRA) 50.863
2.Jakub Tokarz (POL) 52.533
3.Ferna Fernandes De Padua (BRA) 52.970 
Men's VL2 200m Final
1. Curtis McGrath (AUS) 49.489
2. Javier Reja (ESP) 52.205
3. Ivo Killian (GER) 53.985